I've long had a fascination with the power of radio as a medium of transportation to another place or time, a passion I discovered I share with Seb Emina, author (of The Breakfast Bible) and digital dilettante. About a year and a half ago, Seb and I started discussing the idea of a radio station that spans continents and timezones, linking disparate places together by one simple common thread: breakfasttime.
The notion was to produce a radio station that always broadcasts live radio from wherever people were eating breakfast right now: following timezones westwards, moving across oceans and continents on the crest of a wave of sunrise.
The idea grew into an experiment and, after twelve months of research, listening, cataloguing and development, has finally seen the light of day as a fully-formed work:
Global Breakfast Radio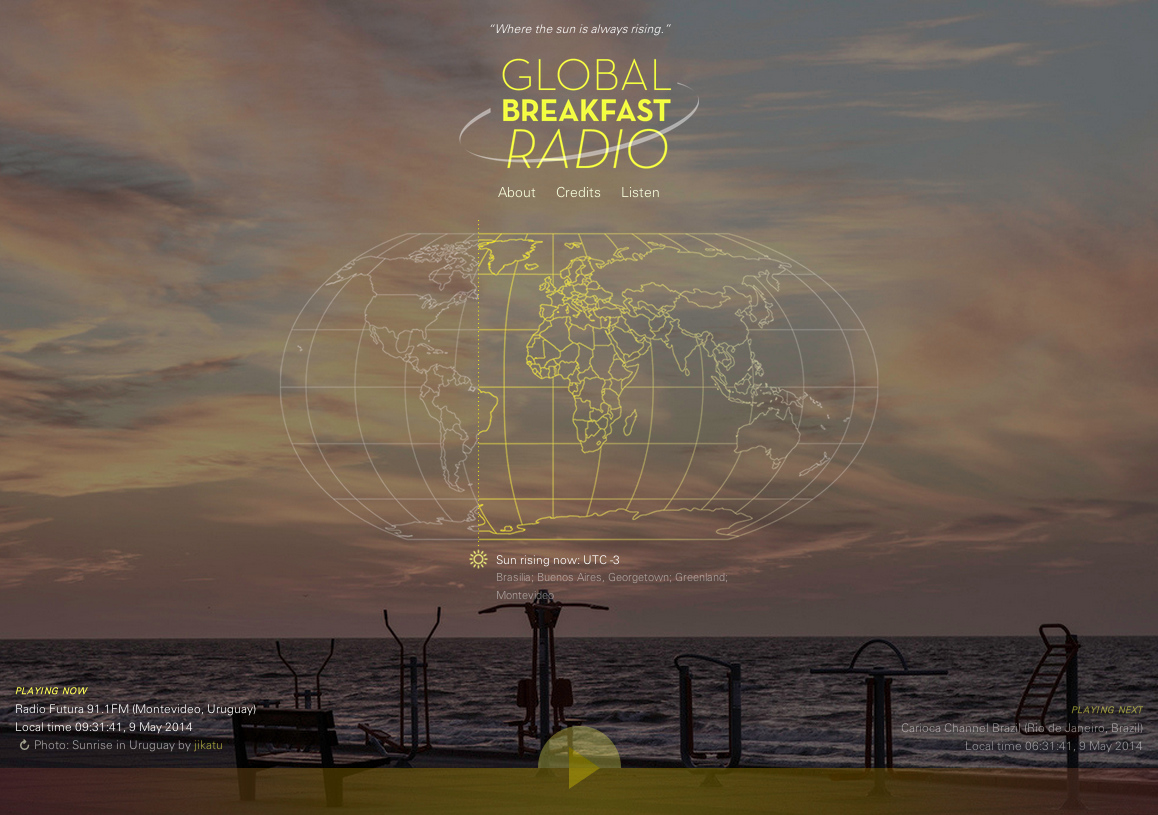 As the sunrise line slowly tracks west across the globe, the radio stream shifts from broadcast to broadcast, always selecting stations within what we call the "global breakfast window": a period of a couple of hours after sunrise in which people are waking up, stretching blearily, and making a bowl of cereal, changua or shakshuka.
Global Breakfast Radio draws from a pool of over 250 stations in more than 120 countries, from Radio Wassoulou Internationale in the Wassoulou region of Mali to KUAM Isla 63 AM, the oldest existing radio station on the western Pacific Island of Guam, broadcasting since 1954. It, and the listener, leaps in an instant from Sarajevo to Prague to Reykjavik, where you'll be briefly humming the same tune as the butcher, taxi driver and lawyer waking up in these far-flung places.
The site is backgrounded by a continuous stream of photographs portraying sunrise from the current broadcast location, selected from a pool of 10,000+ Flickr Creative Common images tagged with "sunrise". Sunrise and sunset images are a ubiquitous trope across the Instagrams of the world, one that we have repurposed to give the site a real sense of place, underscoring the way in which Global Breakfast Radio puts you in the eyes and ears of thousands of unknown people around the globe.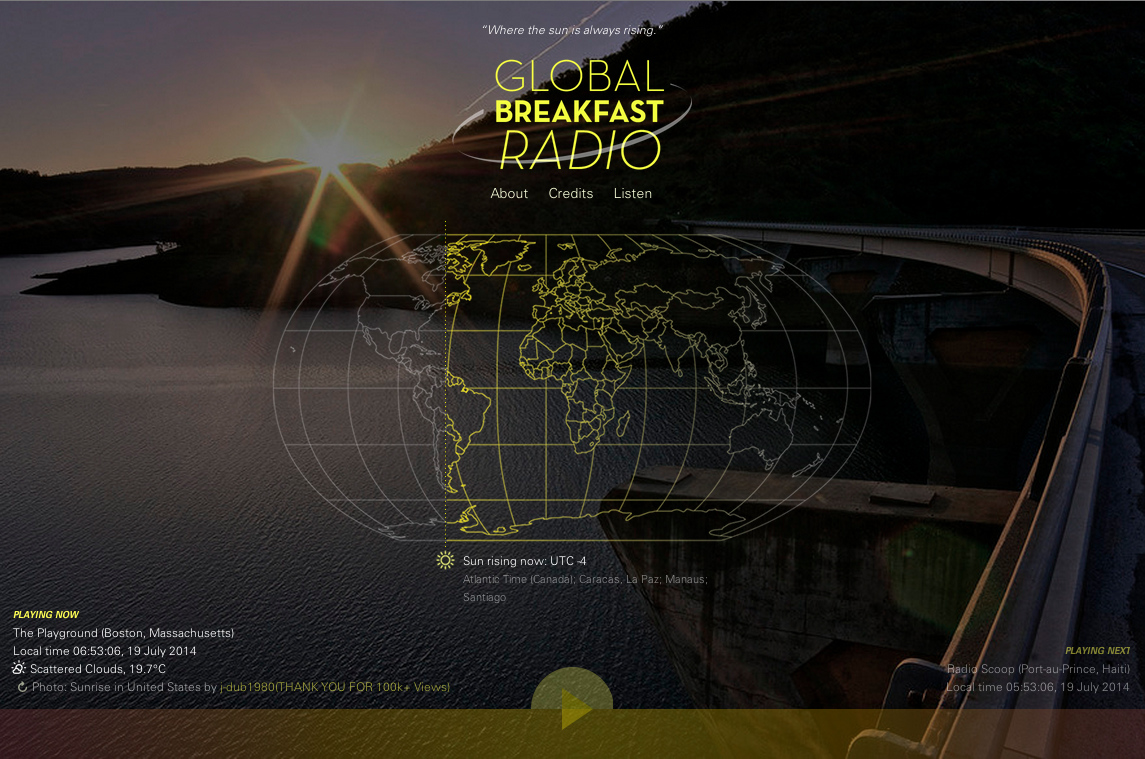 As we've discovered since launching the station, streaming URLs change and disappear at an incredible rate, making maintenance of Global Breakfast Radio a Sisyphean battle against internet bit-rot.
Unusually for a project of this kind, the public and press response to Global Breakfast Radio has been uncommonly deep and engaged. The Guardian report back on a 24-hour period of listening, The Onion AV Club describe it as "basically morning methadone", and BBC Radio 4 talked to us about Global Breakfast Radio on — appropriately enough — their Sunday morning breakfast show. More lovely coverage has come from the likes of It's Nice That, New Statesman, Smithsonian and Monocle. We also did a launch interview with Wired covering some of the more esoteric elements of the work.
Many thanks to all of the listeners and broadcasters who have made the first months of Global Breakfast Radio such a rich and rewarding endeavour.
More: Global Breakfast Radio