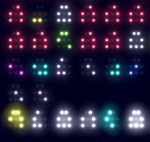 I'm writing this from the Contact Theatre in Manchester, one of the main venues of Futuresonic08, in the midst of last-minute preparation for an installation commissioned by the wonderful SoundNetwork. For the duration of the festival, I'll be sat in a tipi outside the Contact alongside the other inhabitants of the Autonomous Village, an interdisciplinary high-tech shanty town — in a car park.
The commission itself is entitled Subtext, a light-based generative installation which responds to the network traffic of the other workstations in the tipi. While they're electronically participating in Werner Moebius' Sonic Biographies project, the nodes of Subtext will be translating the various layers of network traffic into a series of visible discourses, via transient LED blinks and a projected transcript (above).
More information is available on the Subtext project page; full source code (Python, Processing) and schematics are available only within the networks of Autonomous Village, to be published online after the close of FS08.