Thursday 13 September 2012
Commencing on 21st September is SHO-ZYG, a week-long showcase of the various artists working with sound at Goldsmiths, University of London. As well as contemporary sound installations and compositions, the exhibition will incorporate the historical archives of various prominent Goldsmiths alumni, including Radiophonic co-founder Daphne Oram and pioneering computer musician Hugh Davies.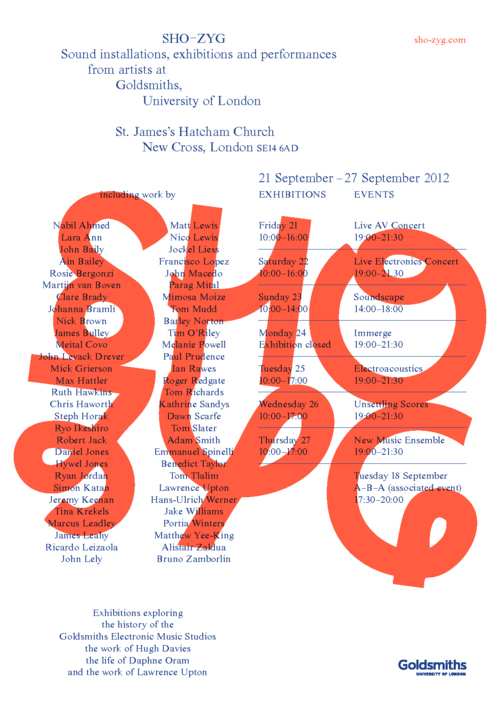 Taking place in the newly acquired St James' Hatcham Church (SE14 6AD), it is set to be comprehensive in scope, with installations, film programme, and a set of works for Disklavier MIDI-controlled grand piano, alongside a week-long series of evening events. There's some fantastic work on show; don't miss the pieces by Paul Prudence and Francisco Lopez, Ryo Ikeshiro, Emmanuel Spinelli, and Jeremy Keenan.
Debuting at SHO-ZYG, is a new collaborative installation by James Bulley and I: Radio Reconstructions, a piece for 12 repurposed radios and algorithmically-controlled wideband radio tuner. We're putting the finishing touches to the piece right now, and will write more on this shortly.
Incidentally, the name of the exhibition is taken from a sound work by Hugh Davies. The eponymous piece was embedded within a volume of an encyclopaedia, whose contents ranged from Shoal to Zygote.
More info: sho-zyg.com