Wednesday 30 November 2011
Stitch is a not-for-profit organisation set up by a group of young artists, scientists and environmentalists with the aim of raising environmental awareness through art.
They are holding an art auction tonight in the amazing surrounds of the Old Dairy (WC1N), with all proceeds contributing towards environmental causes. I have a framed photograph in the show, Untitled (Isle of Grain).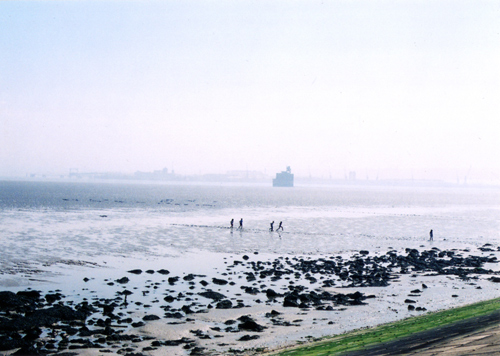 I have written a short piece of text explaining the background to the image.
The Isle of Grain is a region of marshland in the north of Kent, at the mouthway of the River Thames. In virtue of its astounding biodiversity and variety of habitats, it is classified by ecologists as an "open mosaic" environment, home to a rich tapestry of wildlife. Thirteen of its native species are endangered with extinction, with a further 34 classified as nationally scarce. It is home to Britain's rarest species of native bee.

Its sparse populous, coastal location and proximity to London also make the Isle of Grain a target for industrial development. Formerly home to a BP oil refinery, it is now occupied by the Thamesport container seaport, an oil-burning power station, a Liquefied Natural Gas import facility, and the landing point of the BritNed high-voltage submarine power cable, linking Kent with Maasklakte, Holland. A further gas-fired power station is planned by the National Grid, who own over 700 acres of the surrounding land.

In November 2011, Lord Norman Foster presented a proposal to develop Grain as the radial point of a new high-tech transport system, the "Thames Hub". This would include a four-runway airport with twice the capacity of Heathrow, a Trade Spine to link utility pipes and cables to the north of England, and a high-speed rail station, forecast to become the UK's busiest.
The auction also includes works by the like of Vivienne Westwood, Richard Long, Marc Quinn and Richard Wentworth. The event runs from 6pm.