Thursday 02 December 2010
Hit a creative impasse? Bereft of original ideas? Seeking a radical new perspective for your problem-solving methodologies?
Oblique Fucking Strategies is an adaptation of this well-known 70s card set by Brian Eno and Peter Schmidt (which, itself, appears to be a remix of the heuristic ideas of George Pólya). May be used for inspiration, motivation, or simple fucking tedium.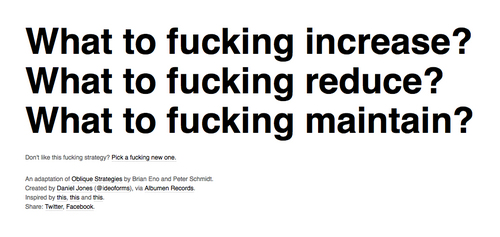 Can also be found on Twitter, with one strategy appearing every few days.