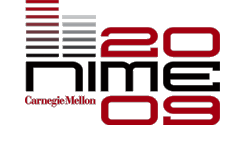 Currently in Pittsburgh, PA for NIME 2009, a packed 3-day conference featuring the cutting edge of musical interface design (pdf program). This afternoon featured some neat robotics with Shimon, the mechanical marimba player, and writing instruments for sound control from the folk at MIT's Responsive Environments group.
En route here, we stopped off for a few days in New York. This gave us the opportunity to visit the great people at Eyebeam, whose hospitality was unrivalled (though it did help to inadvertently wander in during their weekly open-studio hours). We also caught the superb Tangled Alphabet exhibitions at MOMA, followed by Sophie Calle's stunning "Take Care Of Yourself" at the Paula Cooper Gallery. One nine-hour drive later, the sheer verticality of New York has given way to Pennsylvania's expansive forests and rolling hills. Driving through Squirrel Hill Tunnel on Interstate 376 was a highlight; $25 tolls, less so.
Now on CMU's wireless so will again be checking email sporadically.