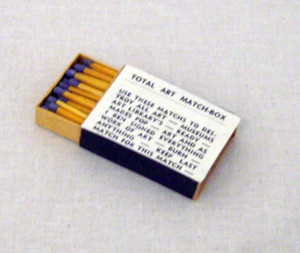 I was fortunate enough to catch the very tail-end of George Maciunas: The Dream Of Fluxus at the Baltic, Gateshead, a couple of weekends ago. It did a great job of putting Fluxus in its context, revealing a number of things that I had previously had no idea about — George Maciunas' colourblindness, for example, which perhaps goes some way to explain Fluxus' monochromatic aesthetic, and his key role in establishing the New York loft space co-ops which clearly leave their SoHo legacy to this day.
The other floors of this stunning building featured a Yoko Ono retrospective and an instance of Miranda July's unerringly sweet and genuine Learning To Love You More project. Both of these I was aware of previously; they also served to complement each other nicely. I hadn't heard, however, of A Spoken Word Exhibition, taking place at the same time. This group show was startling in its content and delivery: short textual pieces by the likes of Douglas Coupland, Lawrence Weiner, Yoko Ono herself and others, read on request by the gallery attendants dotted around the building.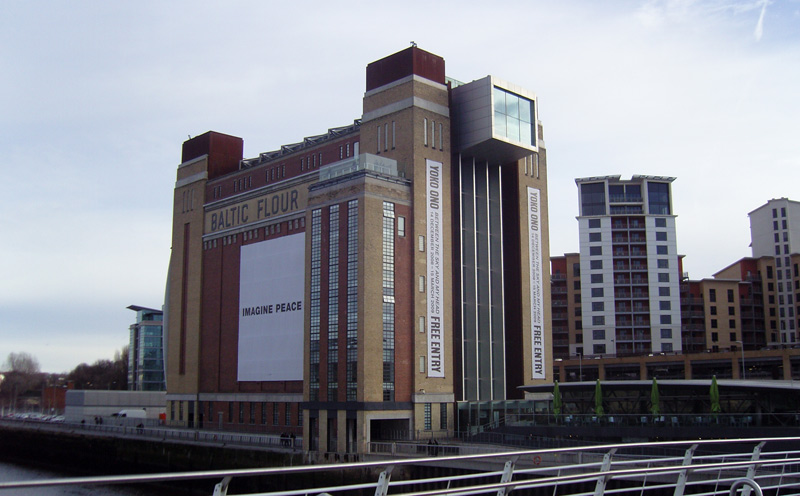 It was a charming way to access a piece of work, inevitably involving an encounter with the attendant and the side-stories that this entails (one told me of the tourists incessantly photographing her as she sang one of the pieces). I enjoyed the reading of Vito Acconci's tale of conceptual Antarctic architecture, "Halley II Research Station: First Impressions & the Beginnings of a Conceptual Approach", neurotically revising plans for a structure of light.
The first reading I requested, however, was a date-specific piece by the world's favourite tender pervert Momus. He's perhaps my most-read blogger right now, so I was naturally curious to see what he'd written. I didn't expect to be greeted by just a pair of numbers: "2015 and 2058". Years, I presumed, but couldn't make any further connections.
Later investigation revealed that this was the title of an earlier blog post of his, in which he sketches predictions for the near future of 2015. Representing the dislocated title in this way serves to further fragment pieces of this digital fabric, hurling them out into the real world of flesh and speech without an obvious referrent -- a mischievous way to induce koan-like contemplation of naked morphemes.
This whole process reminded me of three things relating to Momus that I have intended to write about but failed.
---
1. As a festival bestowal just before Christmas, he collated and re-released his 6 early LPs on Creation Records, all free of charge in mp3 format (1, 2, 3, 4, 5, 6). There are some gems on their - particularly some of the nostalgic jungle-influenced sounds from Timelord.
Incidentally, there's a handful of gigs forthcoming at The Dream Machine, Dulwich, featuring other early Creation artists...
---
2. The below film, a narrated slideshow of boring book sleeves, is one of the funniest things he has produced. Hints of Peter Greenaway and Popper/Serafinowicz.
---
3. Having spotted some intriguing makeshift-looking storage solutions in a couple of photos of his apartment, I have shamelessly lifted his excellent postmodern storage solution of stacked Ikea Trissa boxes. It's the storage equivalent of lego. I hope this doesn't make me a cyberstalker.