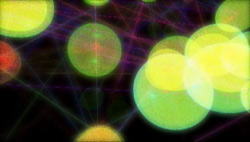 I was delighted to discover that the Fragmented Orchestra won last night's annual PRS New Music award -- a thoroughly well-deserved accolade for this brilliant trio, who will be realizing the project at FACT in Liverpool over the next few months, alongside field work at the 24 neural sites around the UK that make up the project's cross-geographical cortex.
The Fragmented Orchestra is a groundbreaking composition that will mirror the function of the human brain and the way it processes sound. At the heart of this pioneering new work are 24 'neuron units' placed across the UK in locations chosen for their inherent sonic rhythms. These will include a football stadium, cathedral, dairy farm, school playground, motorway crash barrier and a field. Each solar powered Soundbox contains an artificial neuron modeled on those which fire within the brain's cortex and will be attached to a resonant surface. Inside these devices, the size of a video cassette, is a minute microphone, computer, Feonic FI drive and amplifier, which will capture the huge array of sounds made at each location.

As each of the 'neurons' are stimulated by sound, created by both the public and the elements, they will select audio fragments to be streamed across an invisible network or cortex created between them. Using cutting edge technology, this cortex will form a living instrument which communicates with itself and in turn its audience. The total composition is created through newly-developed software and constantly evolves as the micro-fragments of sound are heard as music.
There's also a stunning introductory video which gives a more informative outline.
I'm honoured to have been invited to develop the project's digital interactive structure, including a web-based element which will allow a visitor to explore each of the neural sites and listen to the collective output of this 'living instrument'. More news on this soon!