An extended version of Radio Reconstructions is installed at new art/science space LimeWharf over the next six weeks. It's the first in a series of temporary residencies hosted there, and resonates nicely with their general ethos:
LimeWharf is an evolving project that aspires to immerse guests and practitioners alike in thematic journeys. The core values of our programming are centred around building a positive relationship to the future, connecting the old and the new, meshing crafts with technology all in a non-market driven process-led series of experiments...
It's been a good opportunity to reflect on how the piece links together the history and nostalgia of analogue radio with the futurist technology of digitally-controlled tuners and algorithmic analysis. I expect that when the Mac Mini controlling the installation has gasped its last bits, the venerable radios distributing the audio will be still going strong.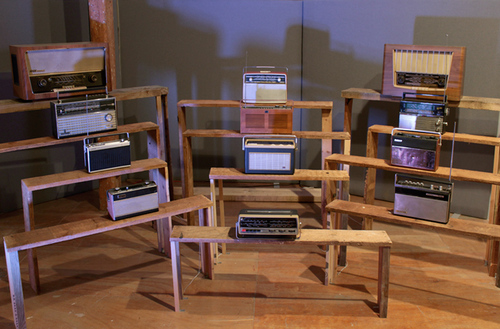 It has also given us the opportunity to think about the separation between the physical apparatus of the installation, and the sound that is heard through it.
We have started considering the installation itself to be akin to a semi-autonomous instrument, which has a particular space of timbres and behaviours associated with it -- in this case, the space of locally-receivable radio broadcasts, and the capability to record, arrange and analyse those broadcasts into pitched fragments.
We can then compose scores for the piece which determine the dynamics of these behaviours over time. Here, we are scoring for grain amplitude, duration and diffusion, and two EQ parameters.
Separating score from instrument means that we can write multiple distinct scores for the installation, exploring different capacities and approaches. We have composed two new 30-minute scores for Radio Reconstructions, which are designed to be played at specific times and capitalise on the fact that we know in advance what is scheduled on major FM stations -- so, we can navigate between programmes with an awareness of the kind of content that will be played, juxtaposing talk radio chatter with distant shortwave broadcasts with local Citizens Band static...
Both of these scores will be broadcast on art radio station Resonance FM. Listen in on their website at 8pm on Tuesday 12 March and Tuesday 19th March.