Zane Berzina is a Latvian researcher working across the boundaries of textiles, electronics and theory to produce beautiful physical artefacts, with a strong focus on the design and production processes. Her recent practice, at LCF, manifest itself in a series of investigations using the skin as an analogy for textile surfaces to create "polysensual, therapeutic and interactive environments". She's now based at Goldsmiths, with links to the Constance Howard Resource and Research Centre in Textiles.
Her current work is, on display at the Science Museum's Dana Centre (last day today!), exposes the pervasive forces and potential of electrostatic in fabrics: E-Static Shadows.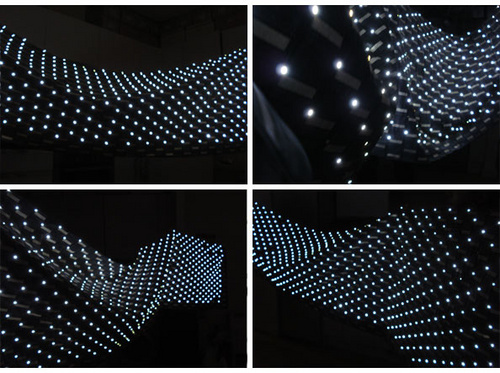 It's the product of a two-year research project which is beautifully documented on her website. For those around London, there's a talk tonight exploring the issues surrounding this research:
How can electrostatic energy enhance the sensory experience of our surroundings? Join designer Zane Berzina, architect Jackson Tan and material scientist Mark Miodownik in our e-static shadows installation to talk future textiles. Explore the invisible forces of electrostatics in this night of playful interactions.
More information here.