Project: Ad Hoc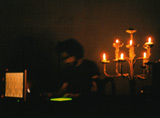 Sound work, performances, remixes and reconfigurations.
Ad Hoc is the working name used for my primarily sound-based performance and composition work, which encompasses a range of activity.
Live loop-based performances, using the monome 40h controller and a range of self-built software to remix and recombine audio fragments in real-time, building chaotic and unpredictable collages of familiar and unfamiliar sounds.

Watch video (YouTube)

Live compositions, using the above setup in a non-public environment to create frenetic and part-prepared micromixes.

Listen to the Rabbit in a Hat micromix or the (Got Me) Burning Up micromix.

Original work, drawing on 8bit-cosmic-italo-house influences; the debut Isometric EP is coming soon.

Production and collaborations:
- as one half of Platnik,
- with vocalist/songwriter Kardy,
- remixing sound and moving image in synchrony with video artist Mixpaste
- and in avant-cabaret act The Capsized Smiles.
Resources