— Abou.t_
Daniel Jones is a doctoral researcher at Goldsmiths, University of London, exploring the relationships between complexity, creativity and social dynamics. This manifests itself in both scientific and artistic output: he has published work on music theory, creativity, systems biology and artificial life, and exhibits his digital work internationally, harnessing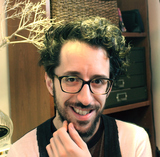 algorithmic processes to create self-generating artworks.
Recent works include The Listening Machine (with Peter Gregson, 2012), a 6-month-long sound work which translates social network dynamics into a piece of orchestral music, recorded with Britten Sinfonia and commissioned by the BBC/Arts Council's The Space; Variable 4 (with James Bulley, 2011), an outdoor sound installation which transforms live weather conditions into musical patterns; Maelstrom (with James Bulley, 2012), which uses audio material from media-publishing websites as a distributed, virtual orchestra; Horizontal Transmission (2011), a digital simulation of bacterial communication mechanisms; and AtomSwarm (2006—2009), a musical performance system based upon swarm dynamics.
Daniel co-ordinated the technical infrastructure for The Fragmented Orchestra, winner of the prestigious PRSF New Music Award 2008. His audio development work for Papa Sangre and The Nightjar was nominated for two BAFTAS, including "Audio Achievement".